Theresa is a 32-year resident and community activist in Rochester Hills, living in Brookedale Woods.
Theresa served on the Rochester Community Schools Board of Education from 1993-2001 and was actively engaged in the PTA prior to her election.
Theresa served on the Rochester Auburn Hills Community Coalition (RAHCC) as the President, working for substance abuse prevention.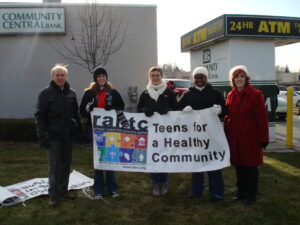 Theresa started the RAHCC Teen Council, giving high school students leadership opportunities and fun and safe activities in the community. Her leadershipin RAHCC led her to become the President of the Alliance of Coalition of Healthy Communities (ACHC) a countywide organization working with 14 community coalitions in Oakland County. Theresa presented at CADCA – Community Anti-Drug Coalitions of America. She wrote and received several federal grants to fund RAHCC and ACHC.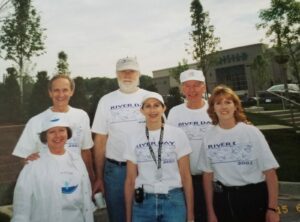 Theresa and her husband Vince were organizers of Holiday Helpers, working to support Rochester Hills families in need. At its peak, they provided gifts and food baskets to over 75 families in the area.
Theresa and Vince have been members of St. Irenaeus Catholic Church for 32 years. Theresa volunteered on the Evangelization Committee and served on the Executive Committee and Strategic Planning Committee.
Theresa served on the Rochester Hills Local Development Finance Authority (LDFA), was a founding donor of the Greater Rochester Community Foundation's Women's Fund and countless other community activities.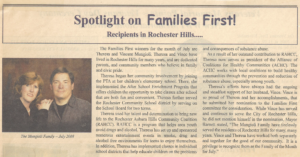 In 2008, Mayor Bryan Barnett awarded Theresa and her husband Vince, the Family First award in recognition of their community volunteer activities.
Theresa has been involved in politics, interacting with elected officials at all levels, for many years. She is the former Oakland County Republican Party chair.
Theresa is a certified Project Manager (PMP) and works at one of the large automotive companies. Theresa has led the Women's Employee Resource Group at the company, helping women with mentoring, education and networking opportunities. Theresa started a PMP study group, enabling staff to obtain PMP certification and expand the project management skills. These are volunteer activities in addition to her job responsibilities.
Theresa has been married to Vince for 40 years and has three children and two grandchildren.
Vote Theresa Mungioli




for Rochester Hills City Council At Large




November 5th or by Absentee.